The art co-op for the older children meets at my house. I'm usually either staying out of the way or helping out, and so don't get around to taking pictures. I couldn't resist these fish stabiles, though.
Another mom taught the day's lesson on Alexander Calder. I sat on the fringes and learned a bit myself.
We saw some of Calder's work during our December tour of the National Gallery of Art. His huge mobile ("Untitled") was designed for the building, and can be seen drifting from several levels.
Calder made many mobiles (he originated them!) and "stabiles"--sculptures that move but are grounded.
Most of his work is playful. Animals are frequent subjects.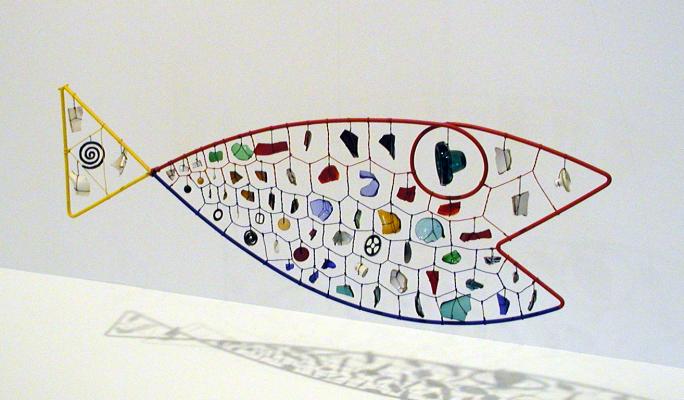 The goldfish bowl is made of wire.
The project of the day showcased much of Calder's style. The students cut and painted animals (mostly fish), then shaped and attached the wire. It's not always easy to keep ten homeschoolers on task (especially if they enjoy each others company!), but it happened this week.
One of the best things about the day? I didn't have to do much more than clear the table and pour some water. Co-ops are grand!